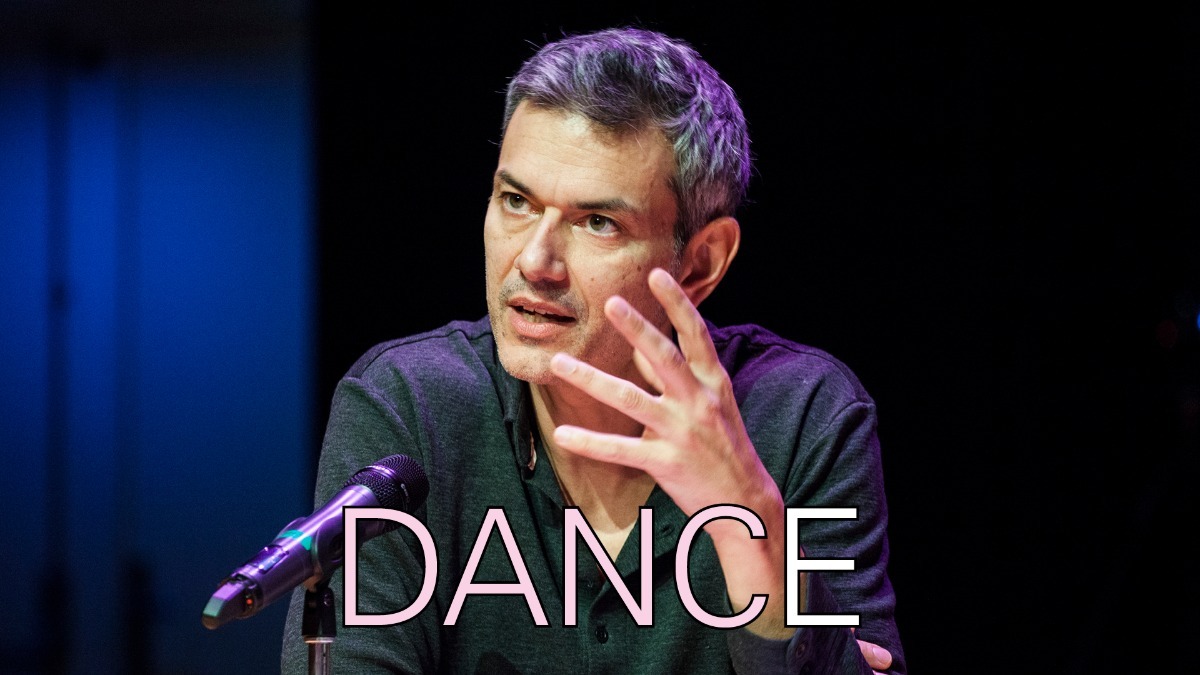 Let's Dance in the Dark With no Choreography!
Vents Vīnbergs
On André Lepecki – Curator, Performing Arts Academic, and New York University Professor
It seems that the most striking feature of the pandemic that is being felt by us all is the new order of social choreography: state-imposed restrictions on movement, the requirement to distance oneself, changes in the culture of physical contact and in exchanging and using things, and even heightened anxiety in the realm of our personal hygiene habits.
These rules apply not only to public places but have also changed our daily rituals in the private space, for example, by significantly increasing the time spent on digital devices and in the virtual world. Reading André Lepecki (1965), it becomes clear that this seemingly new order is not the severe blow to the capitalist economy that is publicly lamented by financial institutions and corporations, but is, in fact, an even greater submission to their power. In the impressive collection of academic articles The Oxford Handbook of Dance and Politics (2017), Lepecki says: 'The silent introjection of disciplining commands emitted by objects highlights a new logic of power that Gilles Deleuze had seen emerging throughout the 1970s and the 1980s, which he called "societies of control", after Foucault's notion of "security societies". In this new logic of power, which today has been firmly established in Western democracies, discipline and surveillance are no longer, or not only, an affair of the state, but an affair also of corporate life, of social life itself, organizing even the most private recesses of "personal" life. In this new predicament, no disciplinarian figure (choreographer or priest, cop or teacher) needs to be physically present to impose order, since in the societies of control, discipline has been molecularly introjected, incorporated, and reified, determining the whole behavioural range of one's (supposedly) "free will". Thus, control has not only been rationally justified – it is accepted as the very reason for carrying out controlled life, as in, the way life should be.' To describe this situation, André Lepecki has introduced the concept of 'choreo-policing'. Choreography itself is a new modernity word that originated in the 17th century, when the absolute monarch Louis XIV, in pursuing the codification of all spheres of life, also ordered the creation of strict rules for dance movements and behavioural etiquette that prevented spontaneity and improvisation. In his column, Lepecki describes how people accept the rules of use of objects and space, even if they have not created them, from brushing your teeth to organized waiting in line at institutions and airports. It's accepted that freedom means choice, however this seems a strange definition to Lepecki, because in a consumer society, a choice is made only between what is offered. The offer is seemingly broad, yet it's generally accepted that free choice can only be made within these limits and that it must be made.
He refers to Fred Moten and Brian Massumi, who talk about social norms that prevent non-participation or the choice not to agree with the generally accepted order and rules created by the institutions. We have become police officers of our own behaviour, without waiting for a law enforcer to call us wrong. Lepecki sees a staggering tendency in the use of smart devices or choreography imposed by the virtual environment.
It's a demi-pirouette with which we turn our iPhone cameras away from the world towards ourselves, to capture selfies. In this way, we become self-supervisors and curators, and with selfies we signal to the rest of the world that we subscribe to the norm and have made the right choices. In his opinion, this is a terrifying hi-jack of subjective personality. On the one hand, it strengthens the consciousness of a fully autonomous self, in which you are the master of your own life and the choices you make; however, on the other hand, it leaves you completely alone against the rest of the world, where you can only have a place if you conform to the norm even in the most intimate moments of your life.
Furthermore, we do this 'virtue-signalling' voluntarily – we're all the same, no matter how left-wing liberal or right-wing conservative we seem to each other. In this way, communities across the political spectrum perpetuate the micro-fascism that Deleuze and Guattari once talked about: the cruel surveillance of themselves and their circle of 'identity purity' and the even more brutal attacks on 'others'. The rule of law, financial instruments and digital technologies have created a situation in which there is almost no room left for the possibility of private non-regulatory practices.
If once, in times of official slavery and colonialism, huge masses of people were seen as objects and a means of production, such as a horse harnessed to a plough or factory equipment, then in the age of intelligent technology, everyone becomes an object that makes itself available to sales algorithms and submits to the normalization of the 'transparency' of life in the eyes of others. Therefore, André Lepecki has introduced a second concept – 'choreo-politics', the tactics of private action or community political strategy that could resist this system of total control. The way he contrasts creativity and imagination is very compelling. Creativity in today's situation, for him, does not seem dignified. It's another mode of production and presenting oneself as a commodity in current market conditions, or an initiative with which the world can still be exploited to increase one's own and other's capital.
(It's characterized by capitalist concepts such as creative industries and innovation.) Imagination, on the other hand, is the opposite. It allows for other scenarios of existence or speculation about what kind of life (and world) is possible outside the generally accepted norm and current events. In addition, the imagination allows us to be united with the community and the world again, for it's always a reaction and a dialogue.
Under market conditions, creativity means solipsistic authorship and the rights it protects, whereas the voluntary sharing of what the imagination has conjured up promotes a collective imagination and creates a reality from which royalties cannot be collected. (This is how Lepecki's interest in dance and performance was born. Born in Brazil, his mother soon moved them both to Salazar's fascistic Portugal. After the fall of the regime, for some reason, dance became the most active art form. It was a collective and all of André's friends were involved. Wanting to be a researcher and anthropologist himself, he helped his friends out as a theorist and playwright of performance productions. He's fascinated by the ethereal and immaterial qualities of dance, its resistance to being a commodity that's so characteristic of other art forms and the collective performance experience that's only possible in situ, and whose authors are the artists and the audience concurrently.)
Another interesting direction of his thought process is his critique of 'photologic', or rather, the analysis of all the practices in which light is currently used to increase capital and ensure total control. Digital technologies have made it possible for financial flows and the exchange of commercial information to take place at the speed of light. Therefore, all the ways to keep the focus on smart devices are essentially 'harvesting' photons.
In turn, we objectify ourselves with a narcissistic desire to be visible, to be, and to look good in the light. Lepecki sees resistance in the possibility of freedom that darkness offers.
There, the sense of the normative limits of your body is lost. It's freed from the bias of aesthetic taste. Darkness creates an opportunity for a shared experience that is free from one's alarm or one's partner's non-compliance with the norm, and which cannot be either choreographically codified or invoiced.
Andre Lepecki's reading Movement Restricted (or Choreopandaemia) took place on July 30, 2020 as part of a series of online lectures and talks organized by RIBOCA2.