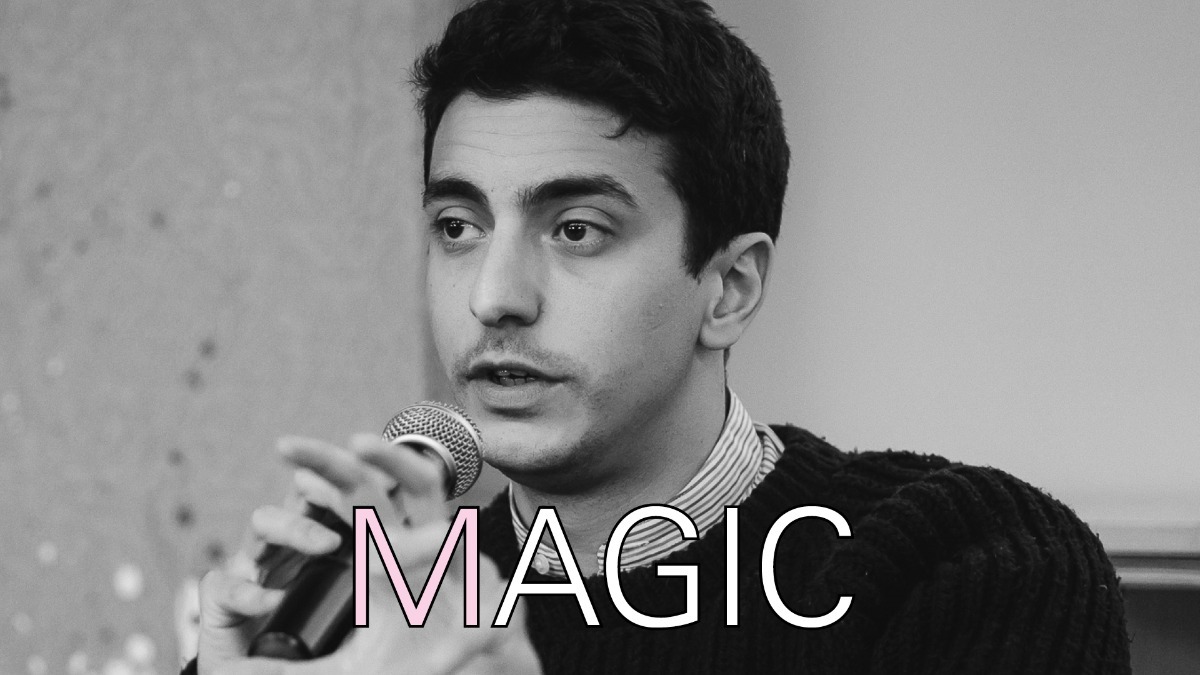 What does a Shaman, a Wizard or Metaphysician Have to Say to a Teenager
Vents Vīnbergs
About an Italian philosopher Federico Campagna
Perhaps the best place to start with, is time. Everything seems to indicate that there is not such thing, yet we think about it all the time. For Federico Campagna (1984), an Italian philosopher based in London, time is not the generally accepted infinite line with a convenient point, the present, always in the middle of it. For him, there is a time for each age, which, like a bow or arch, begins with its own archaic past, reaches a conditional present at the zenith of the arch, and then fades itself away into its ultimate future. This is followed by a completely different era with its own past, independent of the previous past, and the end of its own future in waiting.
Or it is a completely different world in itself. Yes, it takes place in the same territory where the previous worlds once took place and ended, but with different rules, a different awareness of oneself and the world, and a different measure of time. The wrecks of the old worlds are useful to the new ones only as waste, which can be scavenged, or perhaps recycled into new meanings. Most often, however, the new world has no interest in the old values. Each era speaks to itself; it's an autonomous, self-contained narrative. It announces itself, conquers space at dawn, reflects on itself at sunny midday, and is mourned solely by itself at dusk. Consider it like a book or a composition that is "on the same subject" at the beginning, in the middle and at the end.
The way we talk about ourselves today is either a dialectical polemic with the previous states of the era itself, or a multiple, self-exhausting reprise and mechanical reproduction. Federico's own biography is an example of this. Before becoming a philosopher, he studied economics in Milan.
But soon, having no idea why the hell he needed this, he began to sabotage his studies by missing classes and not doing his assignments. One day when his father saw him, once again lolling about at home in the middle of the day, he remarked, "And with a great future behind him."[1] This thought shocked him because it showed the extent to which we simply mechanically reproduce our ancestors' ideals of the future, and notions of the correct life, borrowed from them. Furthermore, as we have seen many times before in history, the values, memes, jokes, subtexts, and default meanings of our time will be completely incomprehensible to the inhabitants of the next age.
"For example, I myself and many people like me, we are finding ourselves in this situation of being towards the end of the historical curve of a certain future of a certain time segment. So, what do we do now, if nobody is there to ever take what we are going to say, because there is no future left? So, how do we engage with people that come after the end of this future?"
This is the question that Campagna poses in preparation for his RIBOCA2 lecture – The End of the World (Worlds). This same question lies at the heart of his Technic and Magic, The Reconstruction of Reality (2018) and Prophetic Culture. Recreation for Adolescents (expected release date early 2021), books.
He deals with this issue both in books and in many symposia, addressing first and foremost cultural theorists and practitioners whose essence is to document existing reality in artefacts, to consider it, to question it and, preferably, to play out other scenarios.
"Not counting of course, the fact that since our cultural production is so connected with the digital medium, they [the people to come] will not even receive it.
The digital medium is the most fragile of all ever invented. More fragile than the papyri that we lost from antiquity.
I think to a certain extent, it's the challenge that we have to face today.
And we have to face it, first of all, without anguish."
It's customary to talk to one's contemporaries in one's own language, but our technological age describes itself in what the Campagna calls "absolute language". It follows from the assumption that there is only what can be called by name or conceptualized and distinguished into a separate autonomous (and thus easily manageable) category. On the other hand, everything that does not follow the description becomes either illegal or subject to expulsion and destruction. As an example, Campagna cites the fact that "passports cross borders, not people", which in turn has taken the marginalization and even dehumanisation of immigrants for granted and sentenced thousands of undocumented refugees to tragic deaths in the Mediterranean. He admits that giving such phenomena a name and creating new "linguistic institutions" has sometimes helped save some from extinction, allowing them to survive and even prosper (identity politics is largely based on it). However, it is only a tactical adaptation of the absolute language system or a temporary remedy for the symptoms. Such temporary solutions are to call someone a woman, gay, or for example, a Latvian, but it will have no meaning in the world that will come after this. Because only the ineffable will continue to live in it.
Here's what Campagna cares about - a way to talk to those who come after us. The word "contemporary" seems meaningless to him in this end-of-era situation. In addition, there is obviously little hope that our time will leave as great (albeit virtually incomprehensible) monuments as the Chauvet paintings, the Vedas, Tikal or Homer. The metaphysical use of language, technological progress, abstract financial products and the administration of 'debt' - the phenomena that define and organize this age - will leave behind only scrap metal, broken glass and depleted earth and nothing to read without electricity, let alone understanding.
Therefore, the proposal of Campagna's forthcoming book, the creation of a "prophetic culture" that could be fertile ground for the "adolescents of the future" roaming the ruins of our world, seems very intriguing. You see, each new era begins with its own "archaic": earlier technologies that no longer work, writing and language which is lost, and the remnants of the old order are plundered with teenage enthusiasm by the most genuine survivors - green, barbaric, ignorant, totally subjective, but vital and hopeful "mythological adolescents."
(These are the heroes of Homer's epics and the vandal chieftains in the Early Middle Ages, and they will disdainfully demolish, to them useless, high-rise office buildings and server farms.)
One way to leave a message for these teenagers is to change the language system to include the subjective, unspeakable miracle of existence, or what they and we will have in common. It is a language of contradictions, paradoxes, shamanic theatricality and witchcraft rituals. If a metaphysician insists that there is only "yes" or "no" and that one thing cannot be another at the same time, then a shaman can calmly be two or more things at once - man, bear, tree and fire. The magician, on the other hand, would say that he is neither one nor the other, nor the third.
Campagna believes these are not irrational uses of language because they create space for untold possibilities. Hence, that is exactly what needs to be done, because although it's not known in which language to speak "over time", history shows that it is the "ineffable but intuitive" that has proved to be the most viable. One way to approach such language and conversation beyond time, is to use the "ancient anarchist method" - living as if a revolution had already taken place.
Let's not be shamed by the seemingly anti-intellectual tone that such underground practices elicit. Another method would be the time-honoured practise of the lonely hermit, present in almost all cultures, which is also able to resonate through time. The easiest method of all however, remains to realize oneself as a permanent actor, taking on a role appropriate to each situation, subjective reality, and the existence of the indescribable miracle of life; thus freed from excessive seriousness.
Looking at time in this way and thinking about our place in it, in this manner, to Campagna, the end of this world no longer seems so tragic.
Federico Campagna's lecture took place on June 25, 2020 as part of the Riga International Biennial of Contemporary Art weekly Series of Talks and Conversations, which bring together outstanding thinkers, researchers, and writers from various fields.
[1] A quote from the 7th section of James Joyce's Ulysses, called Aeolus (translated into Latvian by Dzintars Sodums).